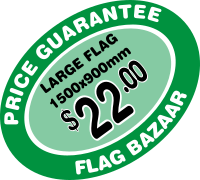 Flag Bazaar has for your perusal and purchase an endless selection of light-weight flags. We stock a large variety of flags including Australian national flags, Australian state flags and flags of the world. We also supply a large range of pirate flags, rainbow flags and other LGBT pride flags, marketing flags, motor racing flags, military flags, flags for events such as Easter and Christmas, as well as many other novelty flags.
All of the flags are available in a large size of 150x90cm (5x3 feet) at a rock bottom price of $22.00.
Shipping is available to any location in Australia including Sydney, Melbourne, Brisbane, Perth, Adelaide, Hobart, Canberra, Darwin and all regional locations.
Of course in true bazaar tradition we will always have some SPECIALS on offer for our customers!
Please Note: These are light-weight flags designed for internal use. They are not designed for prolonged use on flagpoles.