We Are Still Delivering
Flag Bazaar is still operational during the government restrictions on non-essential activity brought about by the Coronavirus.
These are the measures we have implemented:
Only one person in the dispatch facility at any one time.
We are no longer lodging at Australia Post offices but are using the red/yellow roadside mail boxes.
While Australia Post continues to operate you will be able to order and receive your flag order. Please understand that delivery times may be delayed and tracking information missing.
More information about the Coronavirus impact to Australia Post's operation can be found here:
https://auspost.com.au/about-us/news-media/important-updates/coronavirus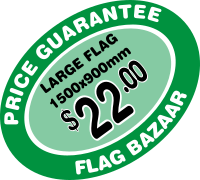 Flag Bazaar has for your perusal and purchase an endless selection of light-weight flags from Australia, the world, marketing, racing and more.
All the flags are available in a large size of 1500x900mm (5x3 feet) and a lot of the world flags are also offered in a medium size of 900x600mm (3x2 feet). All the flags are normally rock bottom priced at $22.00 for the large size (1500x900mm).
Of course in true bazaar tradition we will always have some SPECIALS on offer for our customers, just look below for this weeks crazy priced offer.
FINE PRINT: These are lightweight cheap flags designed for internal use, they are not designed for prolonged use on flagpoles.
Flown on a flagpole in strong winds the seams of these flags will deteriorate in a matter of weeks.